Here is a fun fact:
Personalized emails can outperform non personalized emails by 4x.
And I'm not talking about "hey subscriber.Name" personalization here, but more logical personalization, like showing the right message to the right subscriber.
Because every subscriber is not at the same stage of buying process when they join your email list.
And just like your subscribers are not at the same stage of the buying process, same can be said for your visitors.
Let's say you have a shop selling kitchen knives.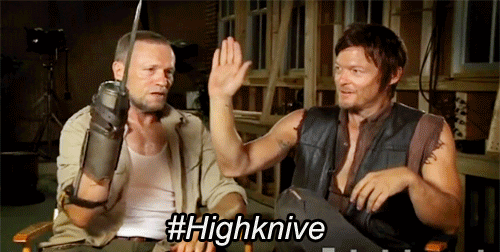 One person landed to your shop because he was looking to buy the brand of the knife you have on stock. The other person could have landed on your website because he is interested in cooking and saw one of your blog posts. He might not even be aware that he needs a new kitchen knife.
If both of these users saw your optin form, where you offer them 50% off on first purchase, what are the odds of them signing up for your email list?
For the first person, who was ready to buy, this is like gold. All he needs is to get your email with the coupon code and link to the shop and he's good to go.
For the second person, 50% off means nothing to him as he's not ready to buy yet. Chances of him signing up are low. Even if he signs up, he won't do anything with that coupon code and you won't get any sales there.
But if you, for example, offer him a list of "10 best buy kitchen knives" as an optin bribe and after that send him some emails with more info on your knives and your offer with 50% off, you'd have a lot more chances on getting that sale, because he got to the stage where he was ready to buy.
Having only one type of popup and only one type of onboarding for new subscribers is making you lose subscribers and sales!
Now you can easily have personalized popups on your website – even if you can't write a line of code.
I'll show you how to do it with Sumo tools in few easy steps. This shouldn't take you more than one hour, so I recommend you go through this when you'll have some time and just follow through these steps.
Getting started
If you haven't already, head down to sumo.com and sign up. You can use free account to set up basic popups and send them to your email list. But if you want some more advanced targeting and tools or you get more than 500 subscribers per month, you'll have to get on a paid plan.
Once you've created your account, you'll need to integrate sumo tools with your site. Guys at Sumo made this really easy, just add your site and select from one of the integration options available. This may be the only time you'll ever see some code.
Now that your Sumo tools are connected with your website, it's time to create your opt in form.
Step 1
Go to Forms>List Builder and start creating it. Be sure that it's goal is selected to collect emails.
To keep things simple and easy to understand I'll just go quickly through the rest of the steps, you can play around with these if you want, but for now, let's just focus on the popup.
Step 2
For the form type, select popup
The design and copy is totally up to you. Get creative later, for now, let's just move on.
Step 3
Visibility…This is where we get into the action and start to do personalization on your popup.
First, select select manual mode to enable all the options.
Here, you can select when your popup should appear, either on set time or when visitor wants to leave your website. Which one to use will depend on the type of traffic (how cold or warm they are) and your offer. We'll get back to when to use which one later.
Let's focus on the display rules for now.
Here, you can choose exactly who should see your popup.
Step 4
First thing what you want to do, if you are using popups, is to hide it for mobile users. This is because google will penalize your ranking if you are using opt in forms which cover most of the mobile screen. You can read more and what to do about it here.
OK, so we create a rule to make the popup hidden for mobile users, easy.
As I mentioned at the beginning, visitors come to your website at different stages in their buying process. So let's take those 2 types of visitors from the beginning for our example here.
We have:
a) Someone who saw an ad for knives in your shop – let's call him Hank
b) Someone who saw your blog post on chopping onions – let's call him Larry
Hank knows he wants the type of knife you have in your shop. He just isn't sure would he buy it from you or from your competition. So let's give Hank a better deal so he can become our customer and also get him on our email list to continue our relationship.
This depends on the type of ad you have running and where it leads your subscribers to. There are a lot of scenarios here, so I'll just cover one to give you an idea how to do it.
I'll assume we have an ad on Facebook for our shop saying something like:
XYZ kitchen knives at best prices
Anyone who clicks through that ad is most likely ready to buy. Giving him tips on what are the best knives or how to gut a fish is too slow here. So let's offer him a first purchase discount if he joins our email list.
This is the case where I wouldn't use exit intent popup rule, but make the popup appear when he lands on the website (with or without the delay). You can always test these kind of things and Sumo makes that easy to do.
Step 5
Let's add another rule to show that popup only to those who clicked through the ad. I'll assume we have tracking on our links, so we can use the URLs rule and select query parameter.
In there, we type our parameter name and value.
Let's say our campaign tracking parameter is set for fbknives.
Now our display rules look something like this and our popup will only display for those who clicked through our fb ad.
You are basically set with that popup. Continue through the rest of the steps.
On the Success step, you can get more advanced with tracking pixels, send an email after they sign up or deliver them your lead magnet directly. I prefer to use my email platform for sending emails and delivery of goodies, to have everything organized in one place. So you can just skip this if you want to keep it simple.
The final step is to connect the popup to your email service. Again, integrations are very easy to do with Sumo, so you shouldn't have any roadblocks here.
Rinse and repeat
Let's create a personalized popup for Larry now. He saw your blog post on Facebook about chopping onions and clicked through to your blog.
We'll create a new popup, go through all the steps again but with different copy for the popup.
This time we won't offer him a discount in the shop, he is probably not ready to do any buying right now.
We'll invite him to join our email list to receive "top 10 best kitchen knives list". Or any other useful resource you have for your lead magnet.
He may not join your list to get a discount for shopping, but he is much more likely to give you his email if you can give him something else he finds valuable at his stage of buying process.
So our second popup is created and we reach the visibility step again.
There are different ways to go on about this with rules, I'll show you a couple.
You can use query parameters again and just select utm_source or utm_medium to be facebook. I'm again just giving you an example, your utm parameters may have different namings.
If you are not sure how to create those tracking links, check Google URL builder.
And just to make sure that popup doesn't show for Hank who clicked your Facebook ad (in case your utm_source is the same for both the ad link and blog links), we create an additional rule to this popup.
So you'll end up with something like this:
And that's it. Now you have 2 different popups on your website, personalized for both Hank and Larry to give them a better experience. They both receive immediate benefits from joining your email list and you can let your emails continue the story from there.
Final words
Sumo tools make setting up things like these a breeze, so you don't have to know how to write a single line of code and still have advanced stuff on your website to grow your list.
I've shown you just a fraction of what you can do with one type of rules, you can get pretty advanced here…and this is all just for simple popups.
With Sumo tools you also get bunch of other goodies, I'll name just a few:
Different types of optin forms – like full screen overlay, on click triggered popups, inline forms etc.
Heat Maps – know exactly your visitors use the site
Share tools – for easy social sharing of your blog posts (like the one you see on my pages)
I would really have to write a gigantic post to showcase everything that you can do with Sumo.
And best of all, you can try most of these things on a free plan and collect up to 500 subscribers to your list every month, so no reason to wait on this.
Grab Sumo tools today to grow your list the smart way.
If you sign up for Sumo through my link, shoot me an email and I'll send you my tips for setting up Sumo with your Mailchimp or Drip account to segment your subscribers and deliver right email to the right subscriber and also some additional tips on how to increase your popup conversions.
Disclaimer: When you sign up through my link and end up on a paying plan, I get part of the commision as an affiliate. I wouldn't recommend you anything that I haven't used personally for myself or my clients though. These tools deliver and are dead easy to use, that's why I love using them and I'm 100% sure you will too.